About Us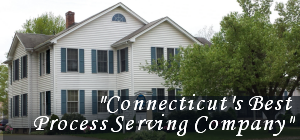 Our business is service and our customer service staff is the best in the business. You'll be speaking with friendly, professional representatives who will enter your order quickly and monitor its progress through to completion.
Connecticut Process Serving, LLC provides a one-stop solution for your litigation and process serving requirements. We are committed to providing you the most professional and reliable service in the industry.
Our process servers are professional and well groomed. We understand that we also reflect on your company's image when we deliver for you.
Our Process Servers can be used for area pick-ups and deliveries of small items on a pre-arranged basis or on call. We have immediate, 1-2 hour and 3-4 hour pick-up services, depending upon your needs. We track your shipment's progress from start to finish using state-of-the-art process serving tracking software and two-way communication devices.
We know we're only as good as our last delivery. In today's business marketplace, we know that we have to earn your business each and every day.
CALL US FOR YOUR NEXT DELIVERY